LUXURY CHALET IN BELLAMONTE (PREDAZZO)
LUXURY WELLNESS LUSIA SKI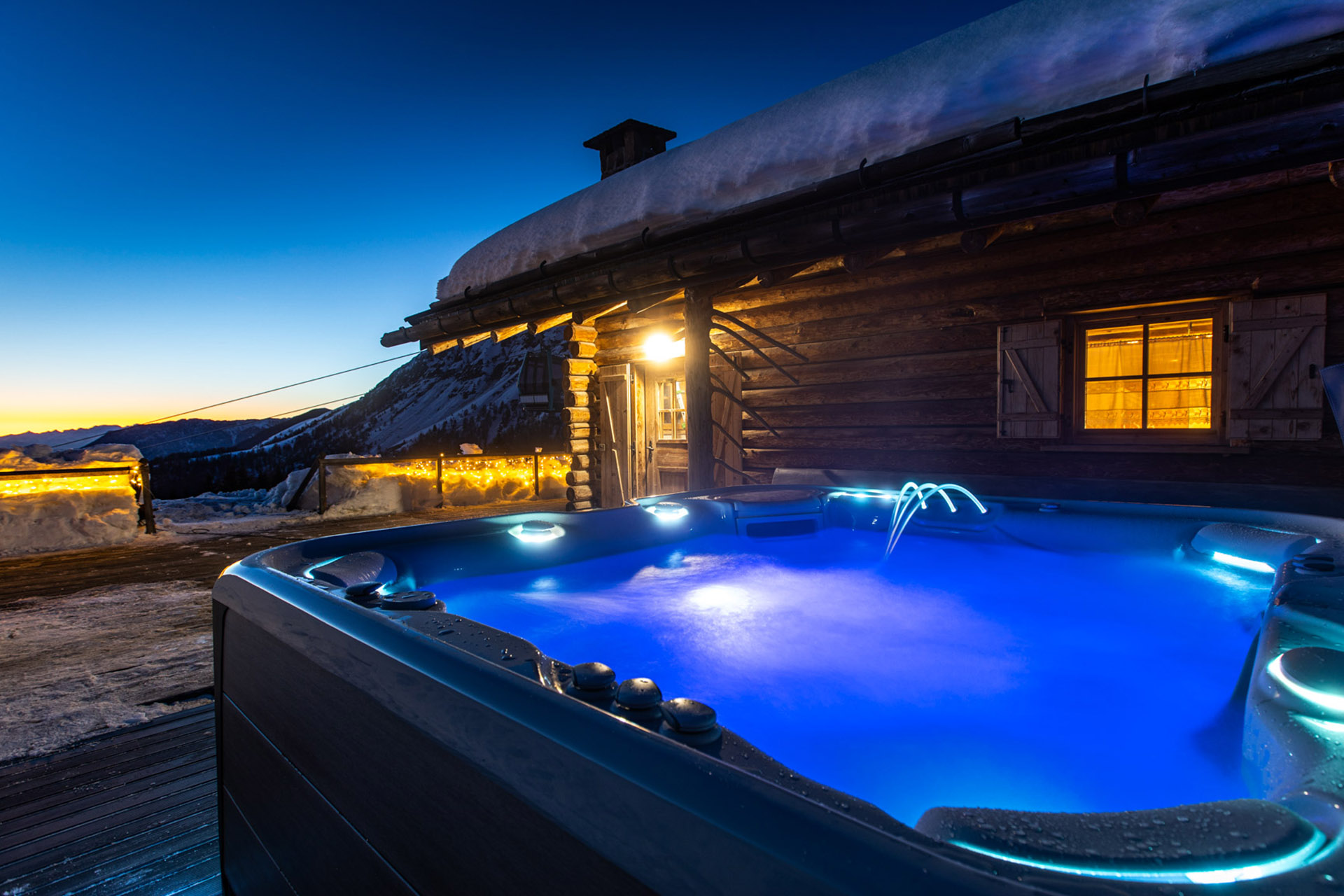 Our exclusive Luxury Wellness Lusia Ski chalet, located at 2000 meters, is located directly on the "La Fassane - Morea" slopes in the Alpe Lusia / Bellamonte / Moena ski area, at the arrival of the second section of the cable car.
Luxury chalet directly on the ski slope
Ideal for two families or numerous companies
External whirlpool bath heated to 37 ° with panoramic views of the Pale di San Martino
Exterior floor in Listotech anthracite and 4-meter panoramic bench heated by carbon fibers
Internal spa with large sauna and whirlpool for exclusive use
Chef at home on request
Osteopathed masseur at home on request
Possibility of taxi with snowmobile "on call"
Possibility to reach the structure with your own car if off-road in the summer season
Unlimited external and internal Wi-Fi
Infinity Plus
LUXURY CHALET FOR SKIERS: GO OUT OF HOME DIRECTLY WITH SKIING
Do you want to stay in a magnificent 150 m² chalet equipped with every luxury and comfort, located directly on the ski slopes of the Dolomites?
The Lusia Ski Luxury Wellness is located in Bellamonte (Moena - Alpe Lusia) and directly overlooks the "La Fassane - Morea" slope in the Alpe Lusia / Bellamonte / Moena ski area.
Just 100 meters from the arrival of the cable car, staying in this luxurious chalet, you can fully enjoy the experience of the ski slopes for the whole day. You can leave the house on skis.

EXTERNAL AND INTERNAL EXCLUSIVE RELAXATION AND WELLNESS AREA
Enjoy a moment of intense relaxation in our Jacuzzi with panoramic views of the imposing and majestic Pale di San Martino, a UNESCO heritage site.
The outdoor relaxation area is completely covered with the latest generation Listotech heated floor that stands out in the white of the snow. The relaxation bench is heated and made of carbon fiber, to enjoy the magnificent view even on the coldest days.
After a long day on the slopes, the 37 ° heated whirlpool will be waiting for you, to guarantee all the present comfort and moments of quiet and rest.
In the Internal Spa you can enjoy the whirlpool and personal sauna in complete privacy to relax and complete your day in complete relaxation.